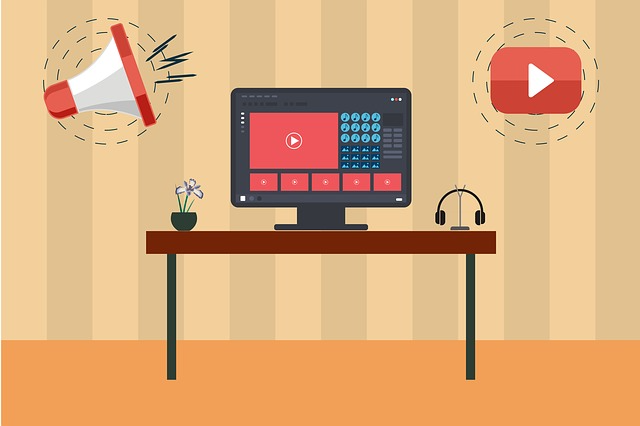 24 WAYS TO PROMOTE YOUR YOUTUBE CHANNEL
YouTube is the internet's favorite video sharing platform - not to mention the second most visited site (and search engine!) in the world.
If you're struggling to increase your YouTube subscriber base, or just want to take your social media strategy to the next level, there are a few key ways to promote your YouTube channel that you may not be taking advantage of.
Read on to learn more about how you can boost your YouTube channel in just a few simple steps!
1. CROSS-PLATFORM PROMOTION
The simplest way to promote your YouTube channel is by cross-platform promotion. Simply put, cross-platform promotion means sharing your YouTube videos on your other social media profiles, such as Facebook, Instagram, and TikTok. By doing so, you're reaching audiences on more than one platform which increases your chances of gaining new subscribers and more engagement.
2. WORD OF MOUTH
There's nothing like good old fashioned word of mouth marketing to help you build your audience! Sharing your YouTube channel with friends and family, and encouraging them to do the same, can help you reach more potential subscribers than you think!
In fact, word of mouth often has a higher success rate since you're sharing content with people who know and care about you - and are therefore more likely to subscribe and engage with your content.
3. POST ON FORUMS
Posting on relevant forums is a great way to boost your content reach. Whether it's Reddit, Quora, or a classic web forum, find a niche that's relevant to your YouTube channel and start engaging with posters. Building up a sincere profile and sharing your content only when it can bring others value is key.

Avoid posting unsolicited content, as this is often considered spam.
4. POST IN COMMENTS
This is a bit different to classic cross-platform promotion, where you would share your content across your own social media profiles. Posting in comments allows you to promote your channel in the comments section of any platform or website. You don't even need to share a link! Simply commenting on other YouTube channels will increase your visibility to other users.
You can also mention your content casually in your comment, to build intrigue. Relating the current content back to your own channel can drive users to view your channel, especially if it's in a similar niche.
Don't stop at YouTube! Commenting on TikTok videos, Facebook posts, Instagram posts, Twitch streams, and more can all help build YouTube channel engagement.
5. COLLABORATE & NETWORK
If you're willing to branch out and socialize, collaborating with another Youtube channel or social media influencer can be a great way to increase engagement without having to leave YouTube!
Oftentimes, collaborative or "collab" videos will be in two halves. The first half of the content will be posted on one YouTuber's channel, with the second half posted on the second YouTuber's channel.
Both content creators mention the collaboration in the beginning of their video, and encourage viewers to visit the collaborating channel for the rest of the content. They will also tag each other in the description box and link to the other video for easy access.
By doing this, each YouTuber is benefitting from the other's audience, oftentimes doubling (or even tripling) their reach.
6. ENGAGE WITH YOUR COMMUNITY
Building a vibrant community can do wonders for your YouTube promotion. Oftentimes when viewers feel valued by their favorite content creator, they will voluntarily share your content and spread the word to their personal networks.
Creating communities around your channel, either with YouTube's Community tab or on a platform like Discord, can help bring your viewers together and encourage them to build the community even further.
7. SHOUT OUT OTHER CREATORS
If you've built a decent following, why not help other creators by giving them a shoutout? It doesn't have to be a channel with fewer subscribers - any channel that you admire will do! Make sure your shoutouts and praise are sincere. You can tag your favorite creators in your videos as well.
Odds are, they'll hear about it and appreciate your support, oftentimes giving a shoutout in return - or at the very least, a follow back!
8. POLL YOUR COMMUNITY
Want an easy way to find content ideas AND boost your engagement? Create a poll and allow your viewers to vote on their favorite video ideas - or better yet have them comment on your latest video with their choices.
This increases your video engagement and gives you plenty of content to choose from in the future - not only that, but your viewers are more likely to watch content that they know that they want to see. It's a win-win!
9. CREATE A VIDEO SERIES
YouTube's algorithm prefers short form content, so if you have a topic that you'd like to expand upon, why not create a video series? This works for any niche, and will build hype and intrigue for your viewers. Leaving off each video on a cliff hanger is sure to bring them back for more!
10. MAKE PLAYLISTS
If you create a lot of content that works well together, building custom channel playlists is a great way to ensure that viewers stay on your channel.
Once they're finished with one video, the playlist will automatically show them the next video - building up a ton of engagement within your channel without having to lift a finger!
11. MENTION OLDER VIDEOS IN NEW CONTENT
On that note, mentioning previous content in your latest videos (and linking to them for easy access) is a great way to maintain a steady flow of engagement within your channel. This is also a great way to refresh older content. Oftentimes old videos may not get as much engagement or attention as your channel grows over time.
12. TRANSLATE YOUR VIDEOS
Adding custom translations to your videos is a great way to increase your audience reach. You can encourage viewers to submit their translations once a video is posted, or you can hire translators online - the choice is yours!
13. HOST A CONTEST OR GIVEAWAY
A great way to boost engagement and promote your YouTube channel is by hosting a YouTube contest or giveaway.
Make sure your rules are simple and encourage users to engage or promote the channel. This can be by commenting on a YouTube video or other social media post, tagging a friend in a video or post, or by visiting a third party site.
Be sure to follow through and promote the winner at the end!
14. PAY FOR AD SPACE
If you have a bit of income to spare and are in need of effective social media promotion, buying ad space on Instagram or Facebook can be a great way to reach a wide audience with your content. Be sure to take into consideration the demographics of your current audience on YouTube, rather than on Instagram or Facebook.
15. INVEST IN SMM METRICS (BUY YOUTUBE VIEWS, LIKES, AND MORE)
If you're not seeing much growth, it's possible that YouTube's algorithm is working against you. It might start to feel like you're treading water - no matter what you do, you can't make any progress. This is called plateauing, and it's common - even for the most veteran of content creators.
A quick and easy way to boost your Youtube channel engagement is by buying YouTube views, likes, comments, subscribers, and any other engagement you need.
When you do this, you build a strong foundation of engagement that can help your channel and content reach a wider audience. YouTube prioritizes content that has high levels of engagement, which can be difficult to achieve when you're just starting out.
When you buy YouTube views, subscribers, likes, and other types of engagement, you're giving your channel the boost it needs to potentially appear on the YouTube homepage and Recommended sidebar.
16. ENCOURAGE VIEWER INTERACTION
Encourage people to comment on your videos by asking them to comment a specific phrase or emoji, to show that they've reached a certain point in the video. By making engagement a sort of game, you're increasing your audience interaction levels and building a sense of community in the process!
17. HOST Q&A'S
Hosting a YouTube Q&A is a simple and fun way to effectively engage your audience and promote your YouTube channel in the process. Use your other social media profiles to gather the questions - for example, using the Instagram Stories question feature - and share your answers on YouTube! This will encourage followers from your profile to visit your YouTube channel - and who knows, one of your answers might even go viral!
18. SELECT A SUBSCRIBER OF THE WEEK (OR MONTH)
Why not randomly select a subscriber and give them a shout out in your YouTube video? This can be a great way to encourage viewers from all over the world to engage with your channel. All they need to do is subscribe and they're in the running! Promote this on various social media profiles and watch your channel grow!
19. SPICE UP YOUR YOUTUBE THUMBNAILS
Your YouTube video thumbnail is the first thing that users see when they scroll - so make it count! If you're noticing a decrease or plateau in engagement, it might be time to improve your thumbnail design. Something as simple as a thumbnail can make a world of difference.

Check out our guide to designing your YouTube thumbnail for some easy tips!
20. CROSS PROMOTE VIDEOS WITHIN YOUTUBE
A simple way to increase engagement on your old YouTube videos is by including them in your video description. If you have videos that elaborate on a topic you're discussing, why not encourage viewers to check them out as well? You can also link to any old Q&As for new subscribers to browse through.
21. EMBED YOUR YOUTUBE VIDEOS
If you have a website of your own (which you should!) why not embed your latest YouTube videos and elaborate on them in a blog post? This is a great way to maximize your viewer potential, and to increase the variety of traffic types to your channel - which is excellent for YouTube's algorithm.
22. GO LIVE!
When it comes to promoting your YouTube channel, engagement with your audience is key. Going live is a great way to interact with your audience while creating high value content. A livestream could be as simple as a real time Q&A, a video game let's play, or just a chat!
23. SHARE YOUTUBE SHORTS
If you haven't tried creating YouTube Shorts yet, what are you waiting for? YouTube Shorts are a great way to create bite-sized content with huge potential. Try creating Shorts in between your regularly scheduled content, to keep viewers engaged while they wait for your latest video!
24. DO YOUR KEYWORD RESEARCH
No matter what your niche is, making sure that your content is ranking for optimized keywords is super important. A simple way of researching keywords is to do a quick Google search of the topic you're creating a video for.
Alternatively, you can use a dedicated keyword research tool like Wordtracker. Be sure to integrate that search phrase into your video title or description for best results.
Promoting your YouTube channel can seem daunting, but with a few simple tricks up your sleeve there's no limit to what you can accomplish! And don't forget, the easiest way to reach your social media goals is to buy SMM followers.
When you buy YouTube subscribers, views, comments and other forms of engagement, you're giving your channel the best shot at going viral. So what are you waiting for?